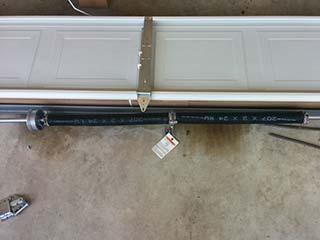 Put simply, garage door springs can be a real pain in the neck. Since they do most of the work in lifting the heavy door, they deal with more mechanical stress than most other components. This means that they're some of the quickest garage door components to break down, and the most finicky and dangerous for the uninitiated to poke at. In fact, thousands of people injure themselves every year by trying to handle garage door springs without proper training. This is a job for professionals only, so call your local experts! Our Stillwater garage door spring replacement technicians have over a decade of field experience with this, and their affordable services are available the day of the call.
Did I Break My Garage Door Springs?
You didn't. Garage door springs break after a few years of regular use. Depending on the quality of the springs and how often you open your garage door, the number can range from four years to more than a dozen. In any case, they will break eventually. You can prolong your springs' service lives with regular garage door maintenance and upkeep sessions, but only to a point. The best thing to do is keep track of how many lift cycles your springs are rated for, and be on the lookout for signs of damage. If your springs seem to be nearing their limit, you can save a lot of stress and trouble by replacing them before they break instead of after. Old spring replacement safer, cheaper, and gives you a lot more control over when it happens than waiting for a break.
Urgent Stillwater Area Garage Door Spring Repairs
If there's one thing you can count on with garage door springs, it's that they'll always break at the worst possible moment if you let them. Even if it does come to that though, you have no reason to panic. Our experts respond to calls at any time of day, seven days a week, all throughout the year, including holidays! Experienced working with torsion, extension, and hybrid spring systems, our local Stillwater garage door spring repairmen are a one-size-fits-all troubleshooting team. Call now and get your new garage door springs installed before the end of the day.