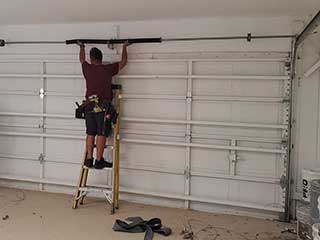 Any garage door that breaks a spring is compromised in terms of safe operation. Why? Well, because the springs act as the main strength of the pulley system. The garage door springs are what helps you or your electric opener lift the panels like they didn't weigh hundreds of pounds. With a broken spring, that strength goes away. Sure, you might be able to open a garage door with broken springs. But someone's bearing the weight, or rather… something. Your opener isn't built to support the full weight of the door. It could get damaged very quickly. So after your garage door in Stillwater broke a spring, get a new one installed ASAP. Our local technicians are here to help with the fastest solutions.
How Important Are Garage Door Springs
In a word – very. In two words, very very. The job the springs on your garage door do is paramount for the regular opening and closing of the door. Every time you open it, the springs experience a range of tensions and stress. This is why they eventually break after a significant length of time has passed. With lifespans estimated in years, you don't have to worry about new garage door springs breaking too soon. But as they get on in years, or the more frequently you use them, they will end up breaking.
Have Broken Garage Door Springs Replaced Safely
Remember that even though the spring lost its tension it doesn't mean it's safe to handle however you want. Replacing broken garage door springs is one of the most common ways for thousands of homeowners to get injured every year. The process of installing new springs to replace broken ones involves dealing with a tension equal to the weight of the door. As in – quite a bit. When you need garage door springs replaced near Stillwater, turn to the local professionals to get the job done quickly and at a low cost. Our experts provide same-day solutions on a day-to-day basis, so you will always have help available.
Stillwater Broken Spring Replacement Pros
With help from the nearest garage door repair technicians, any problem with the spring goes away very fast. After having replaced countless of these steel coils over our more-than-a-decade-long career, we know exactly how to do this safely and at minimal time. Garage Door Repair Stillwater stays ready daily to offer you the quickest broken spring replacement services nearby! Give us a call to have expert assistance and quick solutions applied at a moment's notice.